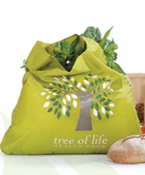 A customised Envirosax is a great and inexpensive way to give a fashionable and practical gift to your customers and clients, whilst advocating a positive culture of reuse and helping to reduce the waste cycle that plagues our environment.
Using eco-friendly, reusable shopping bags instead of plastic bags is a culture which will evolve over time. Envirosax makes the "move in the right direction" easier by providing a bag that rolls up and becomes a lightweight and portable, 1.4oz/40gm package, smaller than the size of an iPhone!
Envirosax now brings you Envirosax Corporate, a range of reusable shopping bags which may be branded with your logo and color to suit your corporate needs.

Bag Dimensions (unrolled): 50 cm. x 42 cm.
Bag Dimensions (in pouch): 10 cm. x 4.3 cm.
Weight Capacity: 19.95 kg.
Bag Weight: 39.2 g.
Fabric: Polyester