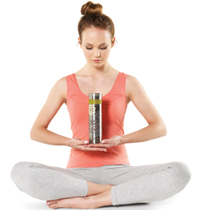 Drink to a cleaner world.
Envirosax helps fight the battle against the plastic bottle by replacing a one-use item with a stylish alternative – classy reusable water bottles for eco conscious fashionistas. Sip in style with bottles from the new Aqua Stream, Spring and Skinny ranges.
Envirosax Aqua water bottles are cleverly crafted from food grade stainless steel, and have been tested for BPA and heavy metals to ensure they are safe to use. Compared to plastic disposable bottles, these sleek designer bottles are good for your health and even better for the environment.

Aqua Stream Bottles
The big sister to Aqua Spring, Aqua Stream is identical in sleek sophistication, styling and handling, just a little taller. Perfect for the gym or console of your car.
Aqua Spring Bottles
Featuring fresh bursts of prints on clean smooth stainless steel, Aqua Spring is cute and petite and fits perfectly in small handbags. The bottle features a unique sports top or optional screw top, making it leak proof for people on-the-go. Unscrew both tops at the base and add ice to your drink to cool down quickly or for easy cleaning.
Aqua Skinny Bottles
Aqua Skinnys are a traditional shape with new fun designs, all stainless steel and BPA safe. Purchase an optional sports top separately. They each match bags from different ranges – can you guess which ones?
Aqua Classic Bottles
Accessories
A great addition to your Aqua water bottle for when you want to quench your thirst on the go! A simple quarter turn to open and close, with a protective dome-lid to keep the mouthpiece clean, this cap is a simple way to get even more use out of your reusable water bottle.